Meet Dr. John Hoggard
Dentist in Greenville, NC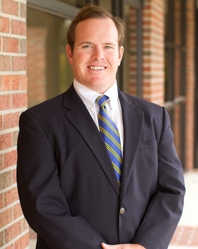 Dr. John Hoggard is proud to be native of Greenville, NC. After graduating from Arendell Parrot Academy, he attended Rhodes College in Memphis, TN where he graduated with a BS majoring in Biology.
He returned to Greenville where he obtained his Master's Degree from East Carolina University in Biology. He then attended East Carolina University School of Dental Medicine where he obtained his DMD and received an Endodontic Achievement Award at graduation.
Dr. Hoggard is a member of the American Dental Association, Academy of General Dentistry, and the North Carolina Dental Society. Dr. Hoggard enjoys the positive impact that practicing dentistry has on his patients. Helping others improve their oral health, thereby improving their overall health, wellness, and self-confidence is important to him.
Furthermore, Dr. Hoggard is committed to serving his community through the NC Missions of Mercy. In his spare time he enjoys hunting, fishing, surfing, and spending time with his family and friends.
If you need dental services, contact our office today to schedule an appointment with Dr. Hoggard!